PinWooferTM - Advanced Pinball Audio
Our system delivers exceptional tonal quality and unprecedented clarity of call-outs, sound effects and music. Add presence to your title and unlock the true potential of the audio track.
There are two amplifiers to choose from based upon your pinball audio goals. Both are easy to install with full instructions plus installation videos. If you don't need the feature complexity of the GT amplifier, choose the KO - you'll be quite happy with it!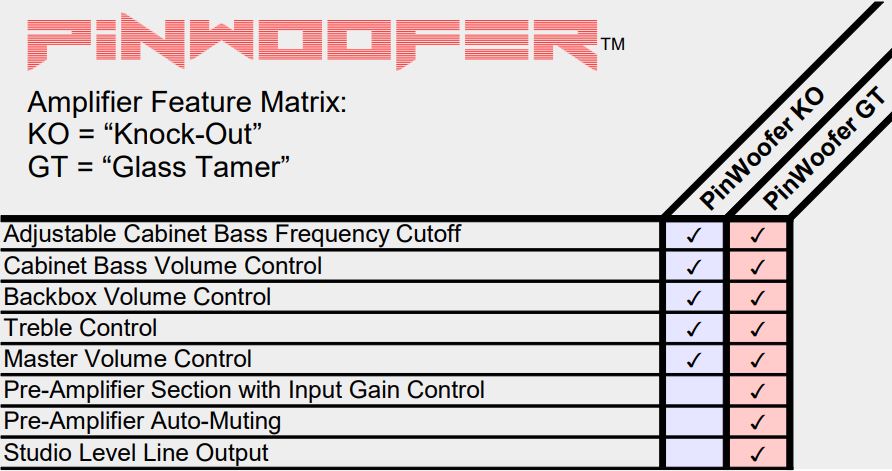 Speakers and Mounting Rings:
8in Cabinet Speaker:

Looks can be deceiving - this is a better sounding cabinet speaker than factory, with tighter suspension and better percussion characteristics. A MUST for Guns N' Roses!
Goldwood GW-8024 8in, 190W MAX, Butyl Surround Woofer 4 Ohm, Polypropylene - Mica Cone.
PinWoofer 8in Universal Interposer Mounting Ring

with Hardware.
Tweeters:

For titles Dialed In!, Pirates of the Caribbean, Willy Wonka and the Chocolate Factory, Wizard of Oz Yellow Brick Road Edition and Guns N' Roses, the backbox tweeter upgrade is included. These upgraded tweeters are vital to producing the best results. This tweeter upgrade is included in the price for the listed titles:
1in Ferrofluid Cooled Textile Dome Tweeter with platform specific integrated mounting bracket.

Simple to install and fit exactly into the factory speaker panel. A T-15 / T-20 Torx Bit and Driver, and a phillips Head Screwdriver are the only tools needed! Plugs into the existing factory speaker connectors.



For all other Jersey Jack Pinball Titles continue to use the factory backbox tweeters.
All titles continue to utilize the existing factory mid-Range Speakers.
Electronics:
PinWoofer GT Amplifier:

Pre-amplifier Stage with Auto-Muting for noise reduction (especially helpful for machines that have an inherent "buzz" or "hum").

Glass TamerTM – Patent Pending Glass Shake Reduction Technology.

Differential Input with Gain Control.

Line-out for External Monitor or Powered Subwoofer
All PinWoofer Amplifiers:
2.1 MAX Amplification - 50Wx50Wx100W Final Stage*

Adjustable Bass Cutoff Frequency

Adjustable Cabinet Bass Level

Adjustable Backbox Volume

Treble Adjustment

PinWoofer GT Expander BoardTM

For the GT amplifier , Plug and Play Audio Board – Converts audio out to Compatible Input

PinWoofer Power Board

For both amplifiers, Plug and Play Power Board – Dedicated Power Source - no splitter or other power sharing solution needed

PinWoofer Platform Harness Pack

Plug and Play Harness to Interconnect all Components Effortlessly
* Average maximum amplifier power in application can be approximated by taking the product of the MAX power rating per channel and 1/(√2*1.5).
pinwoofer WARRANTY COVERAGE PinWoofer products are warranted to be free of all defects in material and workmanship for 90 days from the date of purchase from an authorized PinWoofer dealer. This warranty and all rights provided are limited to the original owner and are non-transferable. Responsibility is limited to replacement or repair as set forth in this warranty statement. Should a product require warranty service during this period, PinWoofer will repair or replace without charge, any part or product proving defective in material or workmanship. All warranty repairs and service must be performed by an authorized PinWoofer technician or service facility. The use of non-authorized repair services renders this warranty null and void, and any charges relating to non-authorized repair are the responsibility of the product owner. All expenses (excluding shipping costs) related to replacing or repairing a defective part or product under this warranty shall be assumed by PinWoofer. PinWoofer reserves the right to replace defective product with a new or factory reconditioned unit. WARRANTY EXCLUSIONS 1.This warranty does not cover product failure or damage resulting from misuse, abuse, neglect, accidents, alterations, standard environmental deterioration, natural disasters,or improper use and/or installation or not following the installation instructions. 2.This warranty does not cover cosmetic damage due to misuse or neglect. This includes paint damage, scratches, cracks or other superficial marks related to improper use. 3.Failures arising from attempted servicing of a non-authorized PinWoofer repair facility or technician are excluded from this warranty. 4.If the amplifier enclosure has been opened (or attempted to be opened) by a non-authorized PinWoofer technincan any warrantly is null and void. 5.If the fastener sealing decals on the amplifier have been removed, attempted to be removed or are damaged in a way that indicates the enclosure were opened or attempted to be opened, any warranty is null and void. 6.The use, addition or integration of any aftermarket peripheral device, enclosure, attachment, mounting device, modification (aka "mod") or other accessory or enhancement, or any item physically or mechanically attached to or electrically interacting with any part of the PinWoofer system, that is not produced, validated, verified, approved and supplied by PinWoofer or a PinWoofer authorized dealer, renders this warranty null and void. Violation of these restriction will be confirmed and determined by PinWoofer. LIMITATION OF DAMAGES In no event shall PinWoofer be liable for consequential damages for breach of this warranty including installation charges, excessive shipping expenses, property loss or other incidental loss. Some states do not allow the exclusion or limitation of incidental or consequential damages, so the above limitation or exclusion may not apply to the buyer. HOW TO OBTAIN WARRANTY SERVICE To obtain services under this warranty, the buyer shall contact PinWoofer at email address PinWoofer@PinWoofer.com to obtain a Return Merchandise Authorization number (RMA#) and a return shipping address. The buyer must carefully pack the warranted product along with a copy of the original purchase receipt, the Return Merchandise Authorization number, and a description to the repair facility you are directed to ship the return to. Warranty assistance can be obtained by calling 208-855-0346, M-F, 8am to 5pm Mountain Time. NOTICE TO BUYER This warranty gives you specific legal rights, and you may also have other rights which vary from state to state.