Posted by PinWoofer on Sep 16th 2021
Make the right choice.
Integration:
Do-It-Youself'er's face challenges selecting the right gear, creating connectors and wiring harnesses and the all-important selection of a clean power solution that runs at a safe voltage. Even if you do everything "right", it is possible to end up with a noisy system due to the array of audio issues that may present themselves when using unmatched parts but are avoided by the integration PinWoofer offers. There are a number of other form/fit/function pitfalls if you don't have a well measured plan and the required knowledge up front.
Tech Support:
PinWoofer offers technical support with our super kit, with phone and email support during the day on weekdays. Most have no issues, but if you do, it is reassuring to know PinWoofer has your back! Ask yourself if Amazon or Ali Express can make this claim!
Cost:
Below is a customer spending analysis (anonymous) showing his DIY cost journey*, compared to two PinWoofer options. Pure DIY costs consider basic components with a low-cost $50 amp, they produced marginal results and are easily verifiable. The required time sink was about 8 hours taking the DIY route, compared to less than one hour had he simply chosen PinWoofer out of the gate. He ultimately did choose PinWoofer to remedy his marginal results: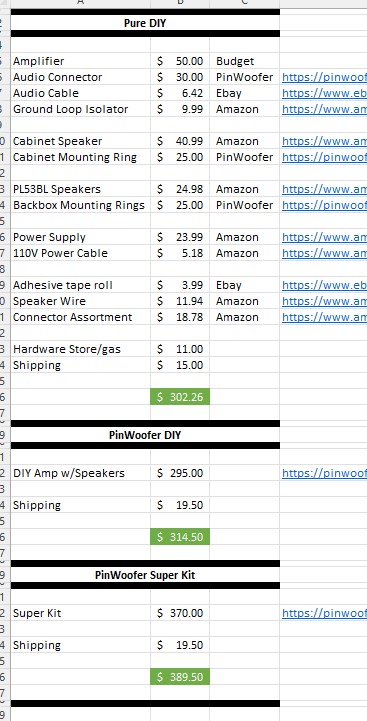 Risk:
We're seeing a large number of new folks in the hobby, and many may be unfamiliar with the risk of working around their electronics. We have concerns over the potential to wire up in a way that does damage to your CPU node / amplifier board. We've also had many calls from guys who have made mistakes or made "creative" decisions and have ended up with some pretty significant damage to their CPU ($500-$800 repair / replacement cost). Some of the cheap components out there are of low quality and more importantly, lack sufficient testing and screening to ensure that you don't put your electronics in jeopardy. (Customer scare photos below.)

Conclusion:
For some, the DIY route is fine. However, if you are not confident in your ability to put everything together, or simply don't want to waste your time chasing an audio upgrade for about the same cost as a fully integrated PinWoofer system, go with PinWoofer.
In DIY, you'll be spending a significant amount of time chasing between $10 and $85 in savings compared to the tried-and-true system PinWoofer offers. Ask yourself if it's worth it!
*amounts used reflect pricing at the time this article was written, and are subject to change.